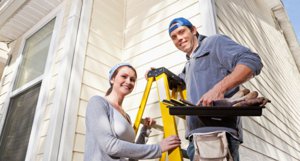 You've probably heard it a million times, but one of the best ways to get the best price for any Santa Cruz house you intend to sell is to ensure you do a proper home inspection and perform any outstanding repairs before running ads online, or erecting your FOR SALE signpost.
Santa Cruz home buyers do not like to stress themselves and would be more willing to commit to a house that doesn't have major flaws, a home that would pass an inspection with flying colors. Why put up an uninspected house for sale when you're just setting it up to fail the buyer's inspection? Uncovering necessary repairs and carrying them out before selling is very important in today's market.
The speed of home sales can be boosted by as much as 30% by simply inspecting a home and repairing the significant problems.
Dan Steward, president of Pillar To Post, North America's largest home inspection service said, "It's cheaper to fix a house than to negotiate the price down. It's been suggested that for every $1 of identified repairs, the buyer would be looking for double that in price reduction." This means that spending as much as $4000 to repair all the broken doors and windows is cheaper than lowering the value of your home by $8000 just because your buyers would be doing the repairs themselves.
Listed below are ten of the most common repairs that need fixing in a houses in Santa Cruz:
1. Faulty surface grading and drainage: This could cause water to seep into the basement or crawlspace, and make a mess of your home. No buyer would want such a house with hidden lakes.
2. Faulty electrical wiring. This may include little or no electrical service, inadequate protection for overload and very dangerous wiring connections (often done by amateurs). Who wants to be electrocuted?
3. Damaged roofs: No prospective home owner wants to live in a house where raindrops would keep sinking into.
4. Heating systems: Defects like malfunctioning controls, blocked chimneys and dangerous exhaust venting.
5. Poor overall maintenance of the house including peeling or blistered painted surfaces, crumbling masonry, makeshift plumbing and broken fixtures and appliances.
6. Structurally related problems like damage to components like foundation walls, rafters, floor jousters and window and door headers.
7. Defective plumbing which may include old and faulty piping materials, faulty fixtures and waste lines.
8. Exterior defects including inadequate weather stripping or caulking.
9. Poor ventilation resulting from many homeowners "over-sealing" their homes, resulting in a build-up of moisture interiorly. This can lead to rotting (and suffocation).
10. Miscellaneous components may need minor cosmetic adjustments like repainting or application of wallpapers.
A thorough inspection of your Santa Cruz home coupled with making necessary improvements saves you a lot of time and makes it easier for prospective buyers to make up their minds about your home.